Time to get your shit list out! ASFXMAS is back!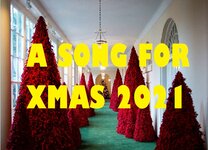 After the ROARING (log fire) success that was ASFXMAS 2020, it's time to bring back the MUSICAL GLORY of CHRIST and all the trashy symbolism that has come to represent his birth, that is ASFXMAS 2021.
So put that Advent Calendar down (can't believe you've already eaten up to the 18th), get your vote in for Suomi and Buttertart's current show, lose half an evening looking up obscure Xmas playlists and join in the FESTIVE FUN!
Joining me are the Moopy newlyweds, who have kindly volunteered to help me through these busy times
@Tisch
and
@Iguana
. They will be assisting me, as we guide you through the Moopy winter wonderland that is ASFXMAS.
Last Year's Top 20
What you need to know
Like last year the theme is CHRISTMAS PARTY so CHRISTMAS or PARTY or CHRISTMAS PARTY. Interpret that how you wish! We acknowledge Christmas is not for everyone, but all comers are welcome to add to the PARTY THEME. Last year we had a variety of genres from indie to Europop, disco to rock, novelty pop to lush wintery ambient pieces.
At this stage, all you need to do is choose a song and a festive avatar and send it to me by 3rd December. The sync playlists will follow between the 4th and 8th December, with the results likely to be sometime around 20th December. Songs MUST be on both Spotify and YouTube. A time limit of 7 minutes.
If there's time/ energy there WILL BE a mini contest for best avatar!
SONG:
ARTIST:
YOUTUBE LINK:
SPOTIFY LINK:
CHRISTMAS AVATAR NAME:
CHRISTMAS AVATAR PICTURE:
Last edited: