Joined

Jul 27, 2014
Messages

41,953
Location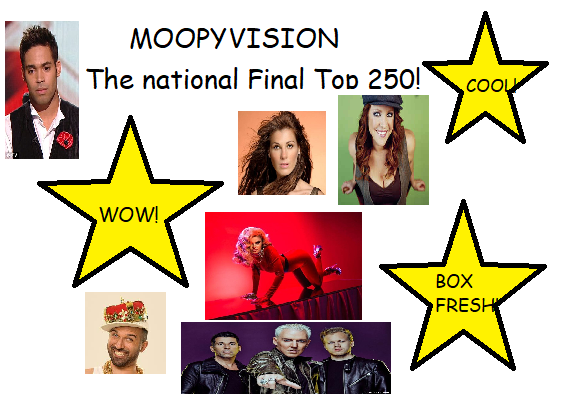 Hello hi! It's me, Butters Den Förste Tart, and I'm here to welcome you to the first and probably only MOOPYVISION NATIONAL FINAL FAVOURITES RATE!
Those of you who are long-time viewers of this annual homosexual flotilla will be aware that there are many participating territories, or 'countries', and some of these hold national finals to determine which entrant, or 'song', will be representing them on the gayest stage of them all.
You may also know that Europe is absolute shit at decision making, and so hundreds of excellent songs have fallen victim to the public's unquenchable thirst for voting for turgid, lifeless dross. Who can forget the moment Cicciolina was brutally cast aside in favour of some nob who probably lists birdwatching as his biggest turn-on? Who wasn't appalled when Romania were forced to field Esther Rantzen instead of the racist opera singing child they actually wanted, all because they thought Wiwibloggs deserved more of a say in their final than the public?
Europe really do shit down their own legs come national final season - which is the main reason we voted for Brexit and are so successful at everything now - so I feel it's only right and correct that we impart our superior knowledge, by definitively voting on the greatest national final songs of all time.
THE CONTEST​
I would like you to DM me your choices for the best national final songs ever. You may choose
UP TO TWENTY
songs, and each poster can nominate a maximum of ten songs for any one country. Once we have a decent shortlist, there'll be a series of viewing parties to rate the list in handy, bite-sized chunks.
'But Butters' I hear you trill 'I don't understand anything ever, I need a firm hand on my rudder to lead me through this process'. And I say to you; DON'T PANIC Tisch, the rules for eligibility and submitting a song are below

THE RULES
​
The following are eligible for this contest:
- Songs which competed in, but did not win their national final.
- Songs which won their final, but the artist declined the invitation to go to Eurovision.
- Songs which were part of radio/online preselections. They don't need to have been performed at an actual final to be eligible; as long as they were in a competition where they had the opportunity to progress to Eurovision, they're valid.
- Songs which won their final, but were prevented from attending by sour faced bitches who shouldn't even have won 2016 in the first place.
The following are NOT eligible:
- Songs which went on to compete at Eurovision.
- Songs which would have competed at Eurovision in 2020.
- Songs from national selections held in years when the country was not a Eurovision participant (e.g. Sanremo: the wilderness years)
- Songs which were rumoured for internal selection.
And that's your lot. There's no rush on this, so I'll give you a couple of weeks to DM your choices to me. I'm asking people to DM so you pick your absolute tops. If there's a publicly viewable list, there's a strong chance this or that will be suggested because 'it ought to be in there'. My ethos with this is that if it's not in anyone's top twenty, it shouldn't be in the contest. If you pick a song that's already been submitted, I'll let you know so you can pick again. I'm very much looking forward to this rocket ride, and I hope you'll all join me.
Last edited: